For nearly a year, Ukraine has been troubled. On the 24th of February 2022, Russia invaded the country with as goal to annexate it. Since that day, both countries have been at war. Violence and war unfortunately is not strange to Ukraine. The history of Russia and the countries previously being part of the Sovjet Union knows a lot of oppression and violence. When I heard of the novel The Memory Keeper of Kyiv, I knew I wanted to read it to obtain more knowledge about the history of Ukraine.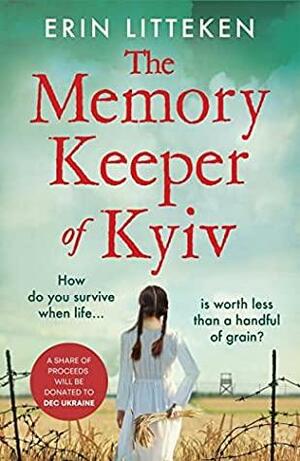 Title: The Memory Keeper of Kyiv
Author: Erin Litteken
Publish date: May 16, 2022
Publisher: Boldwood Books
Number of pages: 350
ISBN: 9781804157640
Genre: Historical fiction
Perfect for fans of The Tattooist of Auschwitz and The Beekeeper of Aleppo.
In the 1930s, Stalin's activists marched through the Soviet Union, espousing the greatness of collective farming. It was the first step in creating a man-made famine that, in Ukraine, stole almost 4 million lives. Inspired by the history the world forgot, and the Russian government denies, Erin Litteken reimagines their story.
In 1929, Katya is 16 years old, surrounded by family and in love with the boy next door. When Stalin's activists arrive in her village, it's just a few, a little pressure to join the collective. But soon neighbors disappear, those who speak out are never seen again and every new day is uncertain.
Resistance has a price, and as desperate hunger grips the countryside, survival seems more a dream than a possibility. But, even in the darkest times, love beckons.
Seventy years later, a young widow discovers her grandmother's journal, one that will reveal the long-buried secrets of her family's haunted past.
This is a story of the resilience of the human spirit, the love that sees us through our darkest hours and the true horror of what happened during the Holodomor.
"I never imagined the release of my novel on a past oppression of the Ukrainian people would coincide with such a parallel tragedy." Erin Litteken
A share of proceeds will be donated to DEC's Ukraine Humanitarian Appeal.
May we never forget, lest history repeat itself.
My thoughts
This novel tells a dual timeline story. We have Katya, living in a little Ukrainian village in the 1930's and her granddaughter Cassie in 2004 America. In between is Katya's daughter and Cassie's mother Anna, but she doesn't play a big part in the book. When Katya gets unwell, the family believes, in cotradiction to what Katya believes, that she needs help. Cassie is trying to heal after expierincing a trauma of her own. She lost her husband in a fatal accident in which her daughter Birdy was involved as well. Both Cassie and Birdy suffer from trauma and Cassie tries her best to get her life back on track for both herself and Birdy. Maybe a change of scenery will do her some good and she loves her grandma, so when her mom asks her to move in with grandma, she reluctantly agrees. Everyone notices that Katya starts behaving more strange day by day. She seems to get lost in her own world and nobody knows what it's all about. Both Anna and Cassie barely know anything about Katya's past, she revealed almost nothing to her family. When Cassie finds Katya's old diary, she decides to dig a little deeper out of curiosity. There's only one problem: she never learnt to speak or read Ukrainian, so she can't translate it. When she meets Katya's neighbour Nick, who is also Ukrainian and speaks the language, she seeks his help in translating it. Slowly but steady, Cassie finds out about the trauma her grandmother suffered from. Also, she starts to get feelings for Nick. Will she find her own luck again whilst her grandmother seems to suffer more and more?
The story alternates between both timelines. When the books starts, it's 1929 and 16-year old Katya is living a normal life. She has to work hard as part of a farmer's family. When Stalin's troups invade the country, they take everything they can take. This includes property, food and people. Slowly, Katya starts losing nearly everything she loves. Through Litteken's way of writing, it's getting painfully clear how great these losses are. It also becomes obvious that the current situation in Ukraine is quite similar to the situation in the early 1930's. This part of history has always been kept silent, so not many people know about this. Not even in Ukraine.
Katya's story intrigues, you want to know how her life develops. I know it's both very sad and tense, but in the midst of all the sadness is hope. The events in her village left Katya numb, she doesn't allow herself to feel emotions. She has to be strong for both herself and her family. However, also Cassie's story intrigued me. A year before, something tragic happened to her. She has to deal with this and heal from this, but that's easier said than done. Usually when I read historical fiction with a dual timeline, the timeline in the past interests me more than the present one. However, in The Memory Keeper of Kyiv both timelines have something intriguing. Therefore, I wanted to know what would happen from start to finish. However, I can't deny that I find Katya's story more interesting as this part of Ukrainian history is new to me. This history still impacts lifes seventy years later, which is painful to witness.
The Memory Keeper of Kyiv by Erin Litteken is a novel about a painful period in Ukrainian history that grasped my attention from start to finish. People have stayed silent about these events for so long. Slowly, this story gets told and this novel sets a good example. Unfortunately, this part of history is quite similar to the current situation in Ukraine. This book taught me more about the past of this interesting country that is on the news daily for nearly a year. Besides its aim to teach the reader about a sad part of history, it also knows to intrigue from start to finish. Do you want to learn more about Ukraine and its past? Then I strongly recommend you to read this book.